When we go on a diet, we start with a goal, such as I want to look better or fit in a pair of jeans I wore a couple of years ago. Whenever we do so, it is only natural to measure some variables to ensure we are moving in the right direction; commonly, the weight, waist measure, and we look in the mirror quite often to see how we're doing, right?  That's how we do it.  The problem with this all-too-common approach is that we miss measuring some other critical variables to tell us if the diet works for our good.  We do not often think about taking some blood exams or any other variable to keep a record of the evolution of our health during the diet.
Something similar happens in business.  Traditionally, the business performance metrics focus on the financial aspect, i.e., the ROI, ROA, ROE, EVA, etc. The issue here is that financial indicators give us only a partial and short-sighted view of the "health of our business."  Financial indicators are lagging indicators based on past performance, which provides us with little insight into what we can expect from the future. Our metrics should also include leading indicators, which will allow us to picture our business's future. Our leading indicators must help us answer questions such as:
How do my clients feel?
How do my personnel feel?
How are the internal processes?
What improvement opportunities am I missing?
A decreasing level of customer satisfaction might allow some good financial performance now, but it can suggest that soon our sales might be affected and with it, the health of our business will suffer. The same goes with the satisfaction of our employees or the degree of obsolescence of our internal processes.
During the 90s, Robert Kaplan and David Norton of Harvard University created the Balanced Scoreboard methodology, which is the most common framework large corporations use to help monitor strategy execution and performance nowadays. This methodology states that businesses must measure their performance in four perspectives: the financial, the customer, the internal business processes, and the organizational learning and growth. The way you measure each perspective should be all aligned with the business strategy and vision, which graphically looks like this: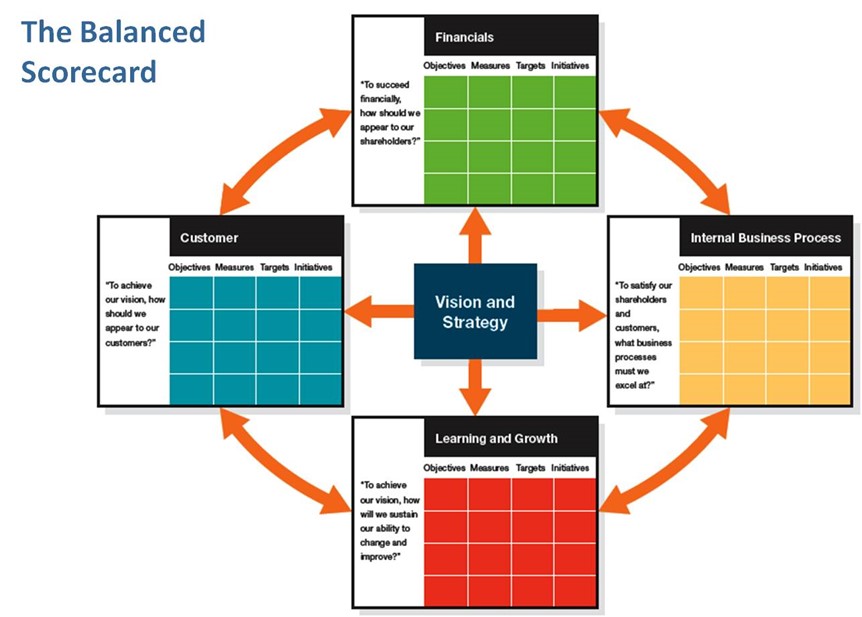 As we can see in the figure, the balanced scorecard is a strategic planning and management system that enables management to link the vision and strategy of the company with the measures critical to the comprehensive performance of the business in the process of creating value for our customers, employees, suppliers, and investors.
Luis David Ramirez is an engineer and entrepreneur (Simon Bolivar University) with a Master of Business Administration (MBA) from the University of South Carolina. For the last 15 years he has been running the consultancy firm Scudo Consulting.
Social Media contact for Luis David Ramirez:   Facebook: @SCUDOConsulting  Instagram: @scudoconsulting